SATELLITE ISLAND BEHIND THE SCENES: Kirstin Ash X Olive Cooke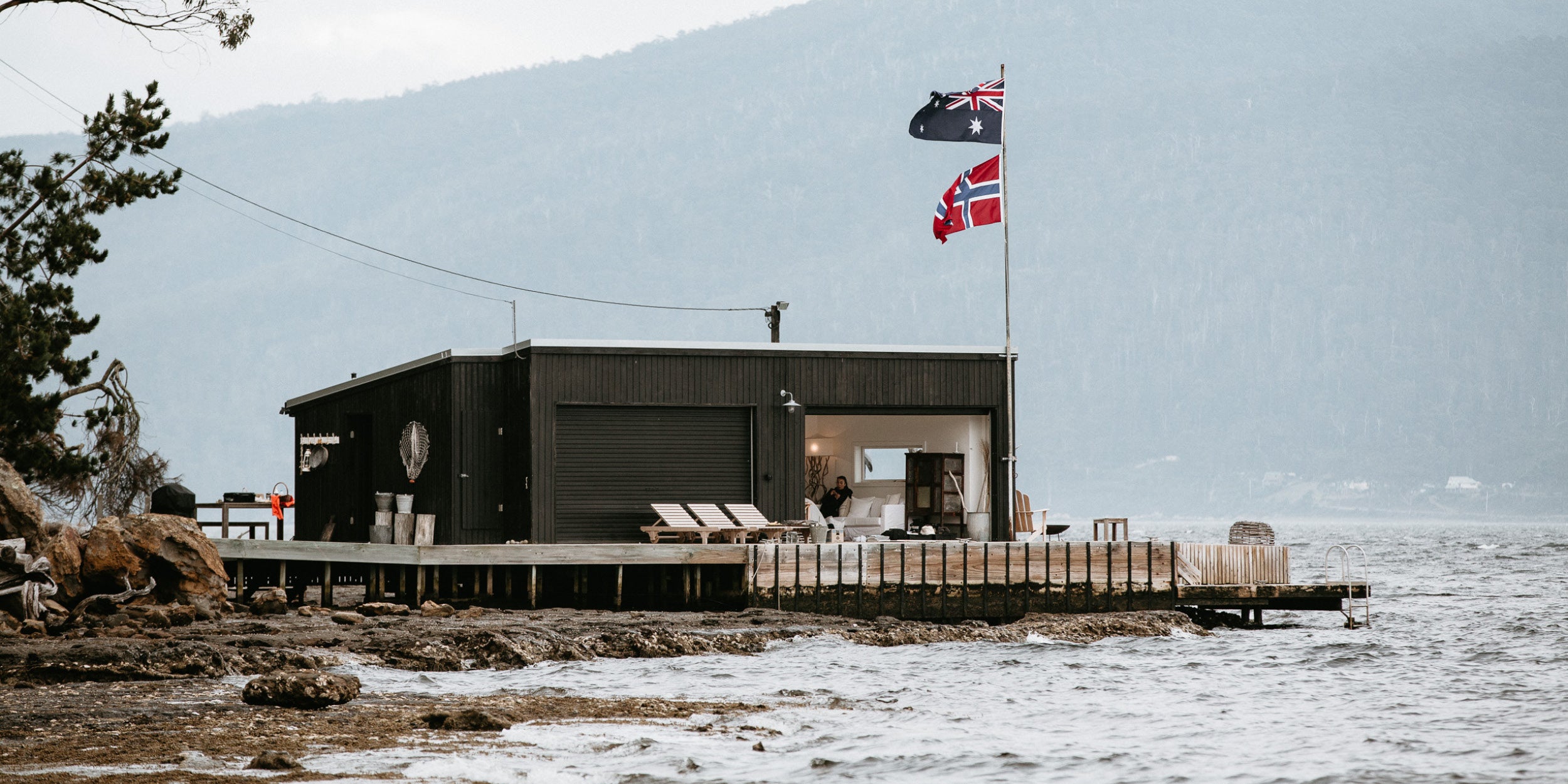 "There's something nostalgic about a seaside adventure; about slow days spent in the autumn sun."
Satellite Island, the location of our recent By The Sea campaign shoot with Olive Cooke, is a place that almost has to be experienced to be believed. Our images depict the raw beauty of the Tasmanian island, how utterly unique it is as a destination, yet it's hard to describe the magic that surrounded us for the short time we were there. From the moment Richard, the island's resident caretaker and all round most helpful man on the planet, helped us into the Satellite tinny, there was a was a feeling that we were embarking on something special.
Sitting right down in the south of Tasmania, in the D'Entrecasteaux Channel, just off the coast of Bruny Island, is a tiny island named Satellite. Family owned and operated, Satellite's rich history is one that doesn't involve much human intervention, meaning it is, today, a slice of remarkably unspoiled land. Our experience of Satellite felt like it was personally curated by Kate, the island's owner, who told us where to stop for the best groceries - including Bruny Island Cheese -along the way. She facilitated our shoot in more ways than one, and even stopped by to see how it all went. This is the warm and fuzzy feeling that makes Satellite Island more than a destination.
For two days we were the only people in our little Satellite world, which worked wonders for collaborating and creating together. The team worked tirelessly to capture the essence of what we were experiencing...From waking up to the sounds of the water lapping beneath us, in the deliciously comfy Boat House, to running through the grassy fields past the local deer. Richard even pulled freshly caught oysters out of the ocean and shucked them for us to eat within seconds, while we sat by the warmth of a crackling bonfire, as the sun set on the unimaginable day.
Our By The Sea collection shone bright in the moody palette of the the cloud covered skies. The weather was wild, but the blustery winds and unsettled sea was a perfect backdrop for the collection, celebrating those cooler, Autumn days, by the sea.
"These days are filled with nature, with simple pleasures of cosy moments. Above it all there's a magnificence in squeezing the last remaining minutes from respendent Autumn days spent By The Sea."
Behind The Scenes Photography: Deanna Gerlach
Creative Director: Kirstin Ash
Talent & Collaborator: Olive Cooke
Photographer: Carly Brown
Videographer: Henry Cousins
Hair & Make Up Artist: Jasmine Abdallaoui
Stylist: Sheree Commerford
Stylist's Assistant & Copy:
Pascale Lamy
Graphic Designer: Salt Creative Studio
Campaign Logistics: Nick Ash